Kevin & Bean Podcast for Monday, January 7, 2013
Monday's show opens with a vague discussion about something that happened regarding the ice hockey season. They had lots of comments but did not specify what, exactly, happened.
Also, we get to hear about a man who has a lot of time in his hands, who has been spending his time driving around alone in the carpool lane trying to get pulled over so he can claim that his
incorporation papers are considered a "person"
and therefore he had a passenger.
8:00 Show Biz Beat
Ralph gives some updates on the Joe Schmo Show. He went to the TCAs on Saturday and promoted the show.
Top 10 movies at the box office over the weekend. The fact that Texas Chainsaw Massacre 3D was number 1 at the box office will give you a clue as to how this went. Also in the top 5 were Django Unchained, the hobbit, Les Miz, and Parental Guidance
Jennifer Lopez is a diva. Oh, wait, that's not news. Well it seems that she has a thing for the color white. While staying at a hotel in Florida, she demanded all the flowers and extension cords in her sight only be white. Ralph gives us a file-worthy moment regarding J-Lo at 14:15.
The gang reviews some of Kim Kardashian's most intelligent quotes.
Some stories about celebrities in trouble with the law, including Josh Brolin being arrested for public intoxication on New Years, which seems kind of ridiculous. Also, Nick Stahl was arrested for lewd acts in an adult movie shop. Stop the madness! And finally, Thomas Gibson from Criminal Minds was arrested for DUI after he drove through a marathon barracade.
Birthdays:
Lauren Cohen
, Maggie from Walking Dead, 31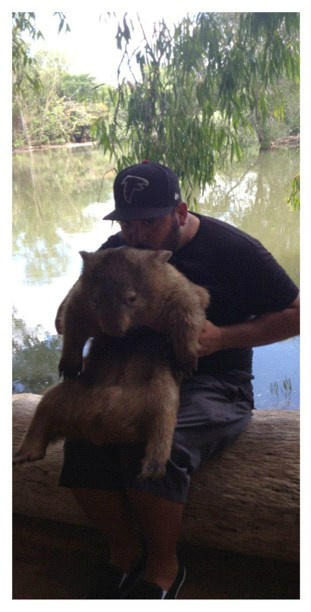 Dave the King of Mexico hugs a wombat
Dustin Diamond
, yes, that's Screech, 36
John Rich,
Big and Rich
Jeremy Renner
, 42
Rex Lee
, of Entourage, 44
Nick Cage
, 49
Katie Couric
, 56
David Caruso
, of aviator sunglasses, 57
Lyndsy Fonseca
26
19:00 Dave the King of Mexico in studio
Producer Dave is back from his vacation, during which he went to Australia to hug a wombat. He indeed was successful in his goal, and in addition to hugging the wombat, also got cozy with a Koala bear. During his trip, he ate kangaroo,
barramundi
, and crocodile.
25:00 Harvey Levin from TMZ
Harvey called in to talk about
Justin Beiber's new friend, Lil Twist
, who is clearly increasing Beiber's street cred, but his entourage feels is a bad influence on him. A paparazzi was killed trying to score a photo of Beiber.
The gang also talked about
Charlie Sheen
, who is in hot water after attending the grand opening of his new bar in Mexico, called Sheen's. Charlie tried to address the crowd as "maggots' but his well known lisp created the "F" sound instead of "M." I mean, that's happened to all of us, right?
32:00 New Laws in California
January 1 was the first day of 876
new laws in California
. Ralph's "Mr. Dickey" character calls in to talk about a few interesting real laws that passed, and several fictional laws that are thinly veiled digs at the cast and celebrities.
37:30 Is Weight Gain Grounds for Divorce?
The gang talks about one of the many niche Huffpost sites that discusses topics of divorce. One of the hot topics at the moment is whether or not
weight gain is grounds to divorce
someone. Callers chime in with varying opinions and we all wish we were married to the last caller.
52:00 Andrew Siciliano calls in to talk about the NFL
and I take a short nap.
58:30 Phone Call with Timothy Olyphant from Justified
Timothy
calls in to talk about his show on FX which is returning for its fourth season even though no one has ever heard of it.
Mike Catherwood got married in December, and is back from his honeymoon.
He married up
.
Mike takes calls for the Psycho Body segment, in which we all feel discouraged about our fitness goals.
Topics include:
Losing that last "kangaroo pouch" after a lot of overall weight loss
Gym in Chicago where you have to be 50lbs overweight to join
Having a false sense of exertion vs hiring a personal trainer
Diet cheat days
1:21:00 Great Gatsby or Jay Z
Instead of
Khloe or Snookie
the gang tries a new version of the guess-who-said-this game, complete with a new theme song from Omar. The gang must choose if selections are either Jay Z's song lyrics, or quotes from F. Scott Fitgerald's book.
1:26:00 Closing Show Biz Beat
Several stories are recapped, and also:
The Buckwild premier did pretty well, opening to 2.5 million viewers