The Kevin & Bean Podcast, Wednesday, January 9, 2013
The show opens with some drops from the Crazy Afro Lady, and the gang discusses the fact that she has not called in a while. They continue to wonder if she is really crazy or is doing a bit, but either way, they want to meet her. Enjoy this remix of the crazy lady, as shared by Kevin.
Bean talks about Florida, and the fact that a high percentage of crazy news stories come from Florida. The group wonders why that might be, and considers the chicken-or-the-egg possibilities.
Florida woman Brenda Schumann went on an armed rampage after finding her husband in bed with another woman, and then
left a present
in the kitchen.
10:00 Show biz beat with Bean
Ralph is not able to join the team for the morning show biz beat because he got super drunk at his Joe Schmo Show party the previous night.
Kim Kardashian is still trying to get a divorce from Kris Humphries, who is not cooperating. Kim tells TMZ that although she doesn't feel the need to be married to Kanya before the baby is born, she would rather not be married to someone else. Did you realize they have been separated for over a year and a half at this point?
Birthdays:
Kate Middleton
, Duchess of Cambridge, 31
AJ McLean
, Back Street Boys, 35
Dave Matthews
, 46
Jimmy Page
, 69
JK Simmons
, (who, after seeing him in Oz, I will never be able to truly accept in any other role, and will always visualize doing unspeakable things) 58
Nina Dobrev
, 24
Joey Lauren Adams
, 45
17:00 Gillionaire has a new song
The cast talks about
Gillionaire
, (
ImDaBes
,
Rifle Burs
,) who has come out with a new song, Dem Pants, which is an homage to women who wear tight pants. I really enjoy this new song, and the way he weaves multiple layers of vocals to create a complete sound. It reminds me of this
Harry Potter Mysterious Ticking Noise Puppet video
. As usual, you will have this song stuck in your head for 8 days.
SKIRT!
If you want to see a pretty funny video that features the inside of a Motel 6, lip flipping while singing, and a pregnant woman shaking her booty, this is for you.
Check out his
ImDaBes
video, which showcases some mad video editing skills, and my personal fave,
Rifle Burs
, in which you will see several things in an unorganized fashion, including Gil's mom's messy garage, a dude sleeping under the table, his friends dancing around with guns, an unexpected plank on a stool, a guy scratching his back with a back scrubber, Gil rolling cookie dough with a rolling pin, more than one Christmas wreath, and masterful use of the word "re-dead." Swag indeed. Swag. Indeed.
22:30 Omar is obsessed with pooping.
Omar makes poop jokes about everything. Bean highlights some of Omar's inappropriate tweets.
28:00 Tribute to Huel Howser
Ralph finally joins the gang, and he has prepared a spectacular highlight of the late Huel Howser and his show, California's Gold. Huel had a knack for talking about uninteresting facts but making them sound really exciting. The clips Ralph shares include the the place where the Rainbird Sprinkler was invented, the Wizard of Bras, a woman who whistles, a lake that has a lot of flies, the Baghdad Cafe, and Huel losing his sh*t when he sees a dog eat an avocado. Check out
Huel's official Youtube Channel
.
34:30 Chris Harrison, host of the Bachelor
Chris Harrison, from the Bachelor calls in to talk about the Travel and Adventure Show and doing Bachelor panel interviews. They discuss the new season of the Bachelor, and the group of women involved this time around, including 50 Shades of Drunk girl, and Overzealous Wedding Dress girl.
43:30 How Quick Did You Get Someone Into Bed?
The gang continues a discussion about New Year's resolutions, during which a caller stated her resolution was to stop being such a slut. Then listeners are invited to call in and talk about how quickly they slept with someone after meeting them. Don't be surprised when most of the stories involve alcohol.
57:00 Kevin and Bean Scientific Survey.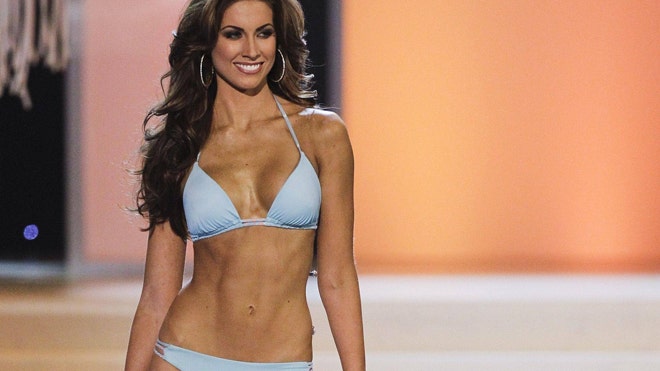 At the national championship college football game,
Alabama quarterback A J McCarron's girlfriend received some attention from the announcer, Brent Musberger
. The girlfriend, Katherine Webb, is Miss Alabama 2012, and Musberger made quite a fuss about how attractive she was. (Personally, all I see are hair extensions, veneers, and ribs.) Later, ESPN issued an apology for his remarks.
Were Musberger's comments inappropriate?
The gang takes calls to complete their Scientific Survey, the best of five calls decides this issue once and for all:
01:05:30 In Studio Interview with Jim McKairnes
The group talks to Ralph's childhood friend from Philadelphia, Jim McKairnes, author of the book
103 Ways to Get Into TV (By 102 Who Did Plus Me)
. The book gives advice for people who want to move to Hollywood and make a career in the entertainment business.
Something that was more interesting to me than the book was Jim's ridiculous photographic memory, which allows him to remember what happened on random dates in history. Pretty impressive.
01:21:30 Phone interview with Adam Carolla
This Week In Rage:
New Year's Resolutions: Adam has decided that his new year's resolution is for everyone ELSE to get their crap together.
The Guitar-to-sex ratio: Guitars = sex. Huge mariachi guitars = no sex. Tiny guitars are played by big Samoan dudes, and huge mariachi guitars are played by tiny Mexicans. This is the stuff that Adam thinks about.
Men's Health Magazine crowning Katy Perry the hottest woman of 2013: Adam says that Katy Perry always looks like she is thinking about something stupid and therefore she cannot be the hottest woman in America.
1:27:30 Charlie Sheen VS Antonio Villaraigosa
LA Mayor Antonio Villaraigosa is being scrutinized after being seen in a party photo with Charlie Sheen. Although the mayor insists he
only had a 3 minute interaction with Sheen,
Charlie is emphatically denying this, and stating that Villaraigosa was partying hard with the best of them. Then we enjoy a "phone call" from the partying duo.
1:32:30 Closing Show Biz Beat
The gang teases Ralph for his excessive hangover vomiting, following his crazy Joe Schmo party.
Paley Center for Media will be hosting PaleyFest, featuring clips and Q&A sessions for popular shows like Walking Dead, Community, Parenthood, The New Girl, American Horror Story: Asylum, and other shows like Two Broke Girls.
Bones has been picked up for another season.
Kim and Kanye have turned down 3 million dollars for the first baby photos. We are all sure they are just holding out for a bigger number. Angelina Jolie got 14 million for her baby photos, but gave it all to charity.
Sarah Jessica Parker likes to dress in matching outfits with her twin daughters
Tony Lipp, Carmine from the Sopranos, passed away at the age of 82. Tony has been cast as a gangster in many projects.