The Kevin & Bean Podcast, Thursday, January 17, 2012
The gang starts out by bringing up the
Manti Te'o fake-dead-girlfriend story.
10:00 Show Biz Beat
Birthdays:
Betty White, 91
James Earl Jones, 82
Maury Povich, 74
Muhammed Ali, 71
Susana Hoffs, 54
Jim Carrey, 51
Michelle Obama, 49
Naveen Andrews, Sayeed from Lost, 44
Kid Rock, 42
DJ Caruso, 48
Josh Molina, West Wing
Zooey Dechanel, 33
Vitamin String Quartet plays Muse
18:30 Classical Muse-ic
Listeners call in to guess the title of Muse songs, as performed by a string quartet.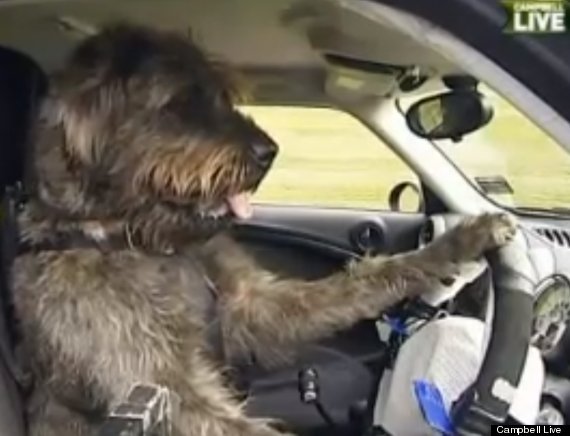 24:00 The Wheel o' Bad Animal Voices
Based on the New Zealand news report about
dogs driving cars
, the gang calls to talk to one of the dog trainers, but oddly enough they wind up talking to one of the dogs!
30:00 Bas Rutten calls in
MMA star Bas Rutten calls in to talk about his
neck surgery
, and promotes the
Fit Expo
in Los Angeles.
36:30 Phone-in with Petros Papadakis
Petros
calls in to talk about the
Manti Te'o fake-dead-girlfriend controversy.
He gives a good overview of what happened, as known so far. What a bazaar story.
45:00 Arnold Schwarzenegger on the phone
The real Arnold calls in to promote his new movie,
The Last Stand
, which is his first leading role in many years. The movie actually has an appealing cast-- Johnny Knoxville and Forest Whitakre, but it is not surprising to see the
Rotten Tomatoes review
. They discuss the former Governor's switch-over to politics and back to acting. Unfortunately, Arnold still sounds like a politician as he is talking about this movie and I tuned most of it out, but not enough to miss the tired "I'll be back" catchphrase at the end.
Bonkers
54:00 Jim Jefferies in studio
Jim brings his adorable accent to the studio to talk about being on the
Conan O'Brien
show. The gang also talks about
Marian Cotillard
's weird eyes. I have to say-- the right makeup makes all the difference for her.
Jim also promotes his new series called
Legit
. Jim is a fairly irreverent and vulgar comedian so I hope the series will tune into that even though the FX channel is on the modest side of the spectrum.
1:14:00 Dr. Drew calls in
The gang wanted to talk about the
Lance Armstrong confession
, the drugs he was involved in, and the way that Lance handled himself when he was denying doping. Dr. Drew expresses concern for the witch-hunt mentality, and reminds us that people love resurrection stories. I think that, after the dust settles, Armstrong will be even more popular after this controversy.
1:20:00 Things you think, but do not say out loud
Thought Catalog has an article,
7 Things Everyone Thinks But No One Says.
Unfortunately, Bean only talks about 5 of these, and leaves out the funniest one-- "I want to punch that baby."
1:27:00 Closing Show Biz Beat
Ralph has high hopes to star in an upcoming biopic about the legendary James Brown, and practices some of his Brown impressions.
Al Pacino will be starring in Happy Valley, portraying dirt-bag Joe Paterno.
Cirque Du Soleil is firing 400 people in their organization as they restructure their productions. The company is obviously failing, because the founder,

Guy Laliberté, could ony

afford 11 days in space. How embarrassing.